Listening Booth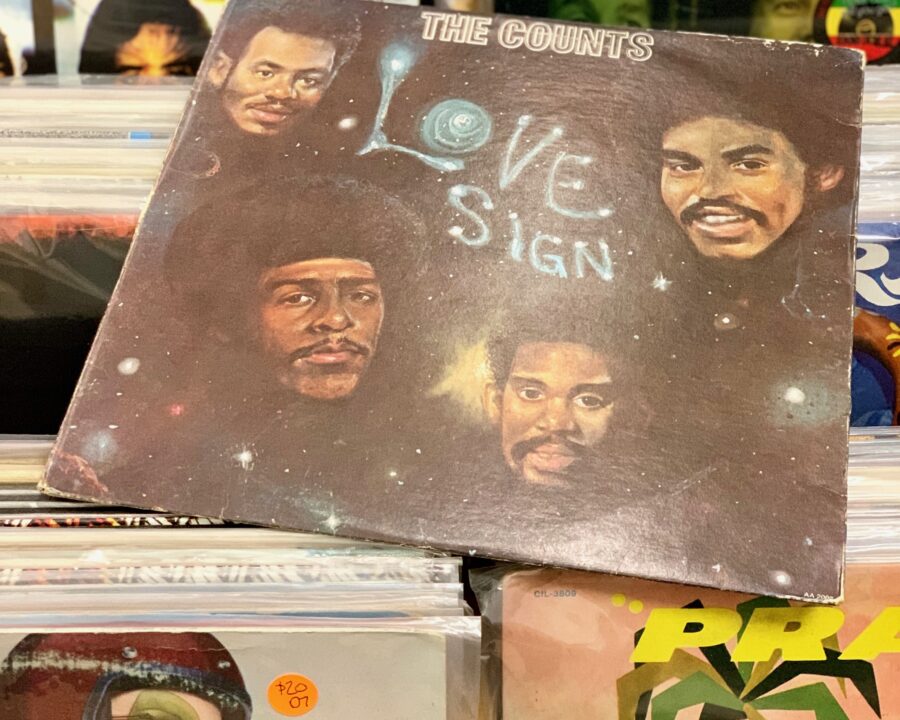 The follow-up to their 1971 funk-laden Westbound release "What's Up Front That – Counts", this 1973 offering expands on their heavier material towards a spacey Jazz-based groove that is reminiscent of Lonnie Liston Smith. The album includes the massive 9 minute long "Counts Medley", a stone cold instrumental jam and the ethereal and languid "Love Sign". The original LP was released in a gate-fold package with a stunning velvet-like drawing of a naked and definitely righteous Adam & Eve in paradise.  

Starting off in the Detroit area as basically an instrumental group, as the Fabulous Counts, the group often backed up various local singers, most notably Spyder Turner, and with the addition of Funk Brothers bassist Bob Babbitt of Motown fame.

The band then hooked up with producer Richard "Popcorn" Wylie (an early Motown recording artist whose career was later resurrected by the British Northern Soul scene), recording the R&B hit "Jan Jan" for Ollie McLaughlin's Detroit-based Moira Records in 1969. The song was such a big hit in Detroit that Moira's distributor Cotillion rush-released a full-length album "Jan Jan". The band dropped the 'Fabulous' from their name for their self-produced 1972 album, "What's Up Front That – Count".
The group then recorded three singles under a pair of pseudonyms for producer Marlin McNichols, calling themselves first Lunar Funk and then Bad Smoke. Later they cut two albums for theAtlanta, Georgia-based Aware, the above mentioned 1973's "Love Sign" and 1974's "Funk Pump". Though both albums made the Billboard R&B charts, the band broke up in 1976.  

The founding members of the group were Mose Davis (organ), Leroy Emmanuel (guitar), and Demo Cates (alto saxophone & vocals). The "Love Signs" LP also included Andrew Gibson on percussion and vocals. 
Tracklist: 


Love Sign – 7:52
Too Bad (You Don't Love Me) – 3:35
Just You, Just Me – 6:58
Riding High – 5:40
Sacrifice – 3:20
Counts Medley (Play It Again, Far Out, Counts Blues) – 9:35

You can listen to this stellar piece of Soul Funk at . . . 
https://www.youtube.com/watch?v=mXuhB4jVPmA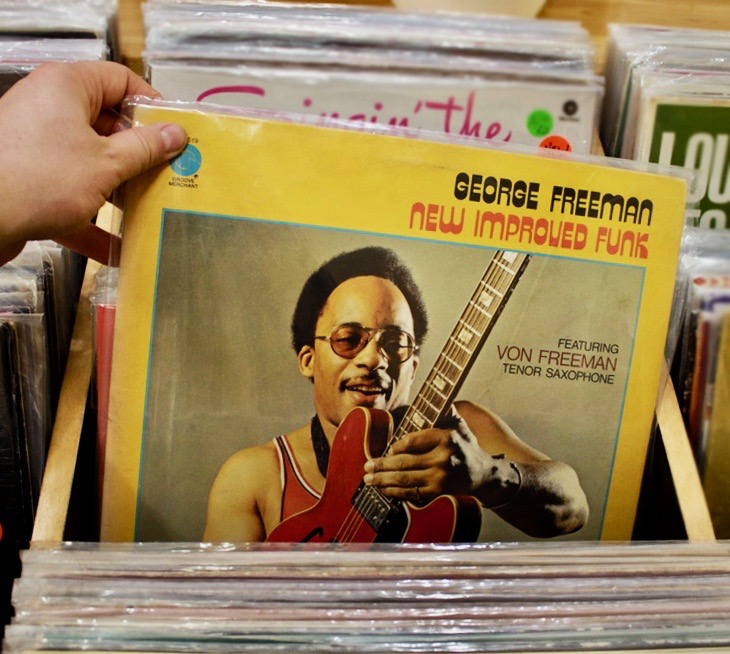 Dorian's is proud to present one of Chicago's elder statesmen and illustrious Jazz luminary George Freeman on Saturday, April 27. Still ever-youthful at 92 and fresh off his birthday celebration April 10 at Chicago institution Green Mill Cocktail Lounge. Shout out Green Mill. George keeps playing around town and still practices his distinctive guitar style daily besides releasing new material. His quite recent 2019 Southport Records release "The Bomb!" (April 2019) finds George in great form showcasing new material that traces his roots back to the blues, with special guest and three time Grammy nominee Billy Branch on harp and vocals. He is one of the few remaining living musicians who recorded with Charlie Parker ("An Evening In Chicago" Savoy, 1950) besides being a member of a sextet led by jazz legends Johnny Griffin and Joe Morris. In the mid-1950s, George started a long association with organist Richard "Groove" Holmes, appearing as sideman and song contributor on Holmes' World Pacific and Prestige. After touring with Gene Ammons and Shirley Scott, Freeman decided against any more road work and has been based in Chicago. Many of George's solo records are sought after treasures by crate diggin' collectors and DJs worldwide. His track "The Bump" (released on Franticdiagnosis Records in 1972) has been sampled by The Wiseguys with the original LP fetching over $150 today. The track was later re-released on Ubiquity Records' "Can't Get Enough" collection. He is the brother of late and great tenor saxophonist Von Freeman and drummer Eldridge "Bruz" Freeman and the uncle of saxophonist Chico Freeman. George and Von collaborated frequently throughout their careers. Other musicians he has worked with include Ben Webster, Illinois Jacquet, Sonny Stitt, Sonny Criss, Charles Earland, Jimmy McGriff, Les McCann, Eldee Young, Harold Mabern, Kenny Barron, Bob Cranshaw, Buddy Williams, Kurt Elling, Red Holloway, Corey Wilkes, Ernest Dawkins, Mike Allemana and the Deep Blue Organ Trio. George will be joined by Vince Willis (keyboards), Kevin Patrick (drums), Jack Zara (bass) and Lorna Boston on vocals.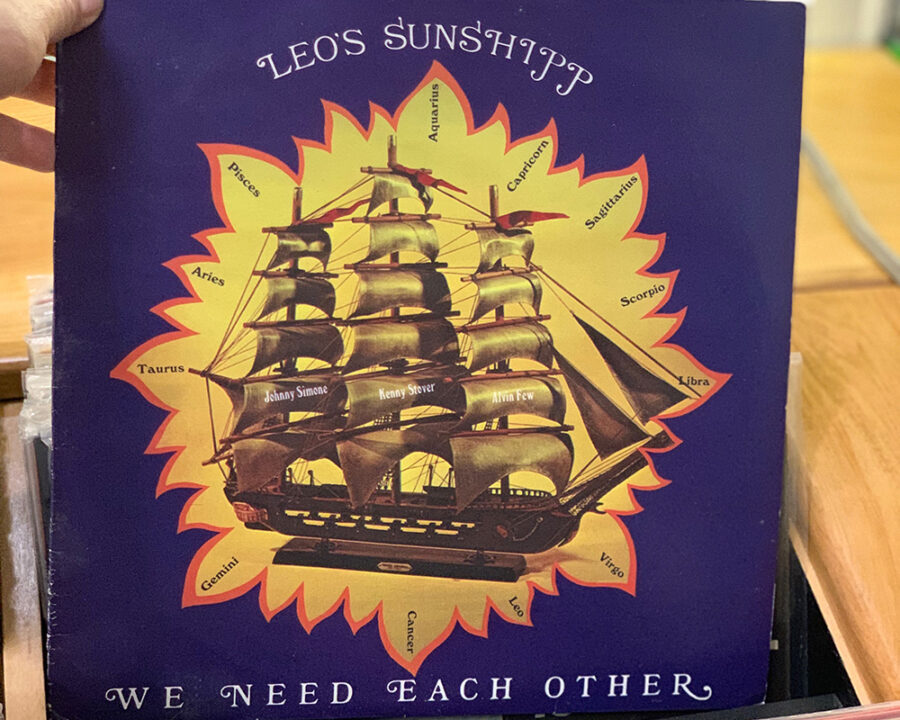 Leo's Sunshipp – We Need Each Other. Released in 1978 on Lyon's Records.

Inscribed on the back cover:
THE TRUTH AND LIVING
To live and breathe isn't living it's life
To learn the truth and live is living
The riches of all
by Alvin Few

"Leo's Sunshipp is one of those remarkable one-offs that pepper R&B history. The group's name sounds far more cosmic than it is. Those expecting a P-Funk rollercoaster ride will be sorely disappointed, as this is more a glide down the jazzy, soulful byways of mid-70s Leon Ware or Marvin Gaye. The group was so named because all three of its main protagonists – Kenny Stover, Johnny Simone and Alvin Few – were born between 22 July and 22 August, in the star sign of Leo. It was the 70s, after all. The group's Marvin Gaye feel ran deeper than mere admiration; Stover and Simone had been backing vocalists for Gaye, for whom Stover's brother, Elgie, had a long-standing working relationship. Hooking up with Few, Leo's Sunshipp began to record an album, of which four tracks were completed before, tragically, lead vocalist Simone fell ill and died. Stover blocked the album's release and moved on to sing with Finished Touch. And that could have been it, until Lyons Records took the four tracks, added four instrumental/alternate mixes and We Need Each Other, the group's only release, came into being" – Daryl Easlie